Are you dead yet?
After a fall from a high ladder, I made a trip to the local GW hospital to get a blood test and get some things checked out. I had been holding onto a 95 lb. well driver that I fell with to the ground on the liver side of my body. Two days later, I lost my tan and became yellow. If you know me, going to a hospital is like driving a nail through my forehead! When going in the hospital, I waited for the emergency room to call my name for over 2 hours. Once I was in the back, I told them from everything I knew that I was having a problem with words they would understand. They asked if I was medical trained or something. Then it went from them helping me to calling "psych" on me because they felt I was out of my mind. The funny thing is, since the blood tests and more tests and all their tests - all they have to offer are a joke due to the fact you would have to run 1 million tests to find a problem or know what is wrong. Doctors only know what they learned in school and that does not always work - as if they are a Google website of knowing everything that is wrong with you. But doctors forget and they have feelings of judgment and thoughts. They can't feel inside you and might think you are crazy due to the fact their tests are crap. Sorry! More people now days will stay home sick and wait for the outcome, not wanting to go in just to be told they are nuts or crazy due to the fact that the doctor can't see inside them or understand them at all. So not to depress any of my readers, I thought I would show you some crazy but truthful stories on what you can get when you go to the hospital looking for the "almighty" doctors' idea of what is wrong with you.
READ ON
Woman dies in ER lobby as 911 refuses to help
Tapes show operators ignored pleas to send ambulance to L.A. hospital
| | |
| --- | --- |
| getCSS("3088867") | NBC News video |
LOS ANGELES - A woman who lay bleeding on the emergency room floor of a troubled inner-city hospital died after 911 dispatchers refused to contact paramedics or an ambulance to take her to another facility, newly released tapes of the emergency calls reveal.
Edith Isabel Rodriguez, 43, died of a perforated bowel on May 9 at Martin Luther King Jr.-Harbor Hospital. Her death was ruled accidental by the Los Angeles County coroner's office.
Relatives said Rodriguez was bleeding from the mouth and writhing in pain for 45 minutes while she was at a hospital waiting area. Experts have said she could have survived had she been treated early enough.
County and state authorities are now investigating Rodriguez's death. Relatives reported she died as police were wheeling her out of the hospital after the officers they had asked to help Rodriguez arrested her instead on a parole violation. Sheriff's Department spokesman Duane Allen said Wednesday that the investigation is ongoing.
In the recordings of two 911 calls that day, first obtained by the Los Angeles Times under a California Public Records Act request, callers pleaded for help for Rodriguez but were referred to hospital staff instead.
"I'm in the emergency room. My wife is dying and the nurses don't want to help her out," Rodriguez's boyfriend, Jose Prado, is heard saying in Spanish through an interpreter on the tapes.
"What's wrong with her?" a female dispatcher asked.
"She's vomiting blood," Prado said.
"OK, and why aren't they helping her?" the dispatcher asked.
'They're just watching her' "They're watching her there and they're not doing anything. They're just watching her," Prado said.
The dispatcher told Prado to contact a doctor and then said paramedics wouldn't pick her up because she was already in a hospital. She later told him to contact county police officers at a security desk.
A second 911 call was placed eight minutes later by a bystander who requested that an ambulance be sent to take Rodriguez to another hospital for care.
"She's definitely sick and there's a guy that's ignoring her," the woman told a male dispatcher.
During the call, the dispatcher argued with the woman over whether there really was an emergency.
"I cannot do anything for you for the quality of the hospital. ... It is not an emergency. It is not an emergency ma'am," he said.
"You're not here to see how they're treating her," the woman replied.
The dispatcher refused to call paramedics and told the woman that she should contact hospital supervisors "and let them know" if she is unhappy.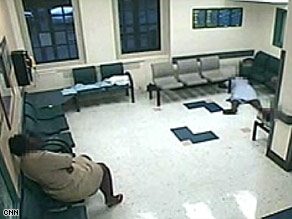 NEW YORK (AP) -- City hospital officials said they were shocked by surveillance footage showing a woman falling from her chair, writhing on the floor and dying as workers failed to help for more than an hour.
Esmin Green, 49, had been waiting in the emergency room for nearly 24 hours when she toppled from her seat at 5:32 a.m. June 19, falling face-down on the floor.
She was dead by 6:35, when someone on the medical staff, flagged down by a person in the waiting room, finally approached, nudged Green with her foot and gently prodded her shoulder, as if to wake her.
The staffer left and returned with someone wearing a white lab coat who examined her and summoned help.
Until the staffer's appearance, Green's collapse barely caused a ripple. Other patients waiting a few feet away didn't react. Security guards and a member of the hospital's staff appeared to notice her prone body at least three times but made no visible attempt to see whether she needed help.
One guard didn't even leave his chair, rolling it around a corner to stare at the body and then rolling away a few moments later.
Green, who had been involuntarily committed the previous morning and had waited overnight for a bed, stopped moving about half an hour after she collapsed.
The New York City Health and Hospitals Corporation, which runs the hospital, said six people have been fired as a result of the incident, including security personnel and members of the medical staff.
Don't Miss
· WABC: Woman dies in hospital waiting room
Green's medical records raised the possibility that someone might have tried to cover up the circumstances of the death.
They contained notations indicating that she was up and about during the time in which the video shows her dying on the floor.
"We are all shocked and distressed by this situation," HHC's president, Alan Aviles, said in a statement. "We express our deep regrets to the patient's family and will ensure a thorough investigation to answer any questions that remain."
Details of the death were disclosed by the hospital June 20, but the case largely remained unnoticed until the video became public.
The psychiatric unit at Kings County Hospital had been a subject of complaints by advocates for the mentally ill.
A state agency, the New York State Mental Hygiene Legal Service, filed a lawsuit a year ago, calling the psychiatric center "a chamber of filth, decay, indifference and danger."
Patients, the suit said, "are subjected to overcrowded and squalid conditions often accompanied by physical abuse and unnecessary and punitive injections of mind-altering drugs."
"From the moment a person steps through the doors," it added, "she is stripped of her freedom and dignity and literally forced to fight for the essentials of life."
The suit was especially critical of the hospital's emergency ward, saying it is so poorly staffed that patients are often marooned there for days while they wait to be evaluated.
Sometimes, the unit runs out of chairs, according to the lawsuit, forcing people to wait on foam mats or on the waiting room floor. The suit also claims that bathrooms are filthy and filled with flies, and that patients who complain too loudly are sometimes handcuffed, beaten or injected with psychotropic drugs.
The office of the city's medical examiner said it was still trying to determine why Green died. She had been brought to the hospital suffering from agitation and psychosis, city officials said.
READ ON DONT STOP NOW
Sitting in the hospital emergency room for nearly 24 hours may be what caused a woman's death, a report from the Medical Examiner suggests.
Esmin Green, 49, had been involuntarily committed to Brooklyn's Kings County Hospital on June 18tth, suffering from "agitation and psychosis." She waited in the crowded psychiatric emergency room until the next morning, where she collapsed in her chair and slid to the floor, convulsing. An hour later, she was dead. On Friday, the Medical Examiner's office concluded that the cause of Green's death had been pulmonary thromboemboli. This condition, primarily caused by sitting for long periods of time, causes blood clots to form in the person's legs. These clots then travel to the lungs, killing the patient. That Green was killed by this condition is significant, says Sanford Rubenstein, the Green family's attorney. As reported by the Associated Press, Rubenstein said that:
The length of time that she spent in the emergency room…very well may have contributed to her death…Physical inactivity was obviously a significant contributing factor.
The Medical Examiner's findings are likely to spark a new round of controversy for the Brooklyn, New York Hospital. For the past few weeks, Kings County Hospital has been under attack for not only letting a physically healthy woman (she had not been admitted for a physical problem) die in their emergency room, but for ignoring her as she writhed on the floor for about 30 minutes. Then, after she stopped moving, another 30 minutes passed before a nurse walked over to her, nudged her with her foot, and determined that she was dead. Security cameras recorded the entire scene and the existence of this video is making it difficult for the hospital to justify its actions…or rather, its inactions.
Just one last added thought: How many of you readers are on an airplane and get really out of control; mad over the flight taking a long time to leave? There is nothing you can do about being stuck there. I know that I have seen this myself on planes. If you are in a hospital and feeling like you are about to die and they want to tell you to calm down or give you a shot to shut you up: Wow!
Comments
Comment this profile!
You must be a registered member in order to post article comments.